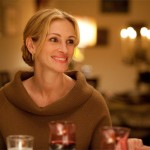 Ever since she played the hooker with the heart of gold who learns the value of having a Gold Credit Card in Pretty Woman (1990), this Smyrna, Georgia, native with the smile that seems to touch her ears has been an A-List actress.
Even when she's not making movies, she's still making headlines. The almost marriage to Kiefer Sutherland; the running off with Jason Patric, the quick marriage and divorce from Lyle Lovett, the disappearing from the screen for a long time after Dying Young (1991) while she planned her next career move and recuperated from the wave of celebrity that had engulfed her. Roberts' first real film breakthrough before Pretty Woman was the low budget charmer, Mystic Pizza (1988). She did some good work after that, but it was the hooker movie with Richard Gere that turned her into a huge star. On becoming as well known for that film as she did, Roberts says, "Mediocre Girl might have bugged me. Pretty Woman I can live with."
She also has a theory about why she's become as well known as she has: "It's God's overcompensation for me being unpopular in high school." As for the money that comes along with her position atop the list of actresses on every producers wish-list, she has this to say: "I'm just the last person in the world who should be rich. I don't do anything with the stuff. I mean, I bought a house—it's an old dump, but I like it and will probably spend a considerable amount of money to do all of the little things that I want to do with it over time. That, to me, is a great luxury and extravagance. I don't have to say to myself, Well, if I tile the kitchen, maybe I can do the bathroom in a few months. I know it can all be accomplished at once, and that's a luxury. In general, the money is a sort of invisible security. I pay no attention to it, yet there's an element of power to it. Because I know if everything fell, I could live 10 lifetimes."
Having won the People's Choice Award nine times in 13 years (1991-2004), Roberts has become one of the most popular actresses among viewers. After being nominated three times for an Academy Award, she finally received the golden statuette in 2001 for Best Actress in Erin Brockovich (2000), as well as her third Golden Globe (the previous two were for Steel Magnolias (1989) and Pretty Woman (1990)), a BAFTA award and an MTV Movie Award, to name just a few.
After a highly publicized four-year relationship with Benjamin Bratt, Julia surprised her fans when she married cameraman Danny Moder in 2002 following a relatively brief courtship. She gave birth to twins in November 2004. After taking a break to enjoy motherhood, she made her Broadway debut with a three-month run in Three Days of Rain beginning in March 2006.